Volcano Types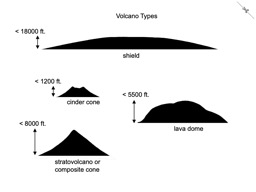 Diagram showing 2-D profiles of shield, cinder cone, stratovolcano/composite cone, and lava dome volcano types. Maximum heights are included for each type.
Download PDF
Download PPTX
Tags

igneous materials and processes, volcanoes

Creator

Kent Ratajeski, University of Kentucky, kent.ratajeski@uky.edu

Source

(none)

Language

Grade 2 (contracted) Braille

Font

Swell Braille, 24 pt, download from https://www.tsbvi.edu/download-braille-and-asl-specialty-fonts
This work is licensed under a
Creative Commons Attribution 4.0 International License
.